Emmylou Harris!
Cowgirl Angel Tells Her Own Fascinating Story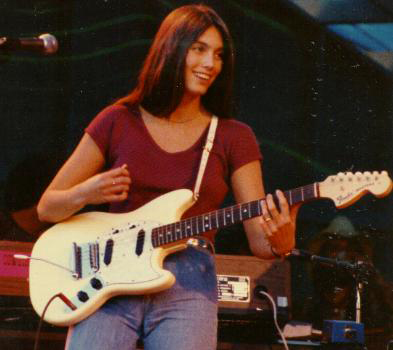 I've taken this picture from Kate's Emmlou Harris Hompage. It's a scan from Barry Tashian's scrapbook.
Look at his email.


Cowgirl Angel From Military Family
Emmlou Harris was born in Birmingham, Alabama, in 1949. Her father was in the U.S. Marines and so she spent much of her childhood moving from camp to camp with her family.
"I was raised in North Carolina and Virginia but, as we moved around a lot, I consider myself pretty much of a rootless person. Under these circumstances you always have a collection of people around you but no real culture, although I'm sure we're all born with a certain potential for roots wherever we are. I think probably mine were latent and came out through my association with people like Jerry Jeff Walker, Paul Siebel and, of course, Gram."
Her brother was a great country music fan and among the artists he particularly liked was Buck Owens.
This influence led Emmylou to work out her own version of "Louisiana Man". "It was also the first song that I had ever performed on stage. I was also really into folk music with people like Joan Baez, Peter, Paul and Mary and Pete Seeger. During that whole folk era I was just a maniac. I had no outside life - I was weirdly introverted. I was a pretty good student in high school but spent most of my time studying music and drama, and eventually won a drama scholarship to the University of North Carolina. But there was nothing much happening there so I started playing a few small bars off campus just to keep myself from going crazy. I think that was a real good experience for me - I really feel at home on stage in a small club or a bar, and getting high singing those types of honky tonk songs."
Emmylou - No-One Wanted To Date Me
She spent an itroverted adolescence, and claims that no-one ever wanted to date her.
"I never did anything. I studied and I was very intense and I never went out on dates. I was fairly sure something was wrong with me. Wouldn't you feel inferior if you went through five years of high school and never got asked out? I admit it, man - I went to a straight high school. My experience was limited and high school was the hub of my social life. I didn't ever feel really comfortable there."
" I learnt later that it's probably very good that I didn't feel comfortable cause there wasn't really much happening. But when you're young and you don't fit in you can't get over the fact that it's painful."
"I mean, I won the history award, the English award, the scholarship award, the essay contest and I was Valedictorian (a special merit deal). No wonder I never got any dates!"
"I didn't have a boyfriend. I was scared of dating. It just seemed to me that there must be more to life than pom-poms."
"Actually I don't think I ever dated. I met a guy, fell in love with him and we started living together. Once I decided I was ready I didn't waste any time.
Love Came Naturally
"Nobody had to tell me this whole thing about how you had to be in love. You just sort of go by your feelings - but when everyone is different you begin to think. What's wrong? I found things like fraternity parties and the whole college scene an incredible fiasco."
Woody Guthrie Was Hero
She worked her way through college by playing in bars and clubs. "In college I sang for ten dollars a night and all the beer I could drink and all the pop-corn I could eat. I didn't drink beer 'cause I was usually on a diet so I got just the ten dollars."
She felt attracted by the Greenwich Village folk scene which was still happening in New York at that time and finally ended up there.
"I was very enamoured by the whole idea of travelling around with my guitar. Woody Guthrie was my hero and the whole idea of discovering all these things that I'd missed excited me."
Would Prefer First Album To Be Forgotten
While in New York she cut her first album - something that she'd rather not talk about any more - for the now defunct Jubilee label. The record company went bankrupt shortly after it was released.
"Gliding Bird" (Gubilee JGS 8031) was a collection of ten songs, five of them written by Emmylou, all very much in a folksie vein with thin backing accompaniment.
Emmylou Got Married
Emmylou married in New York when she was 22. It lasted just a year but resulted in the birth of her daughter Hallie who lives with her in her house just outside Los Angeles.
"That was in the early part of my career, pretty much at the beginning, in late 1967. By early 1968 I started working in Gerde's Folk City - I was their opening act.
Marriage Flops, Moves to DC
"I worked around New York for a couple of years until my daughter was born. After she was born I went to Nashville for a while, but I didn't really work there - it was too hard having an infant daughter and being a nursing mother. That's when I ended up in Washington. I was broke and my parents had just bought a farm outside Washington. So I stayed with them for a while whilst working various jobs like a cashier at a dime store or a hostess in a model homes store.
Plays Clubs For Pennies
"Washington D.C., oddly enough, is a very, very musical town. It has a lot of bluegrass, and a lot of young people and a lot of clubs that love to have music. You could play threee or four different clubs per week and make a fair wage, enough to support yourself which I could never do in New York - I always had to supplement it by working as a waitress. Gradually I built up quite a following which eventually led up to my meeting with Gram."
Parsons, Harris, Met In Georgetown Bar
"It was at the beginning of the time that I was working in Washington that I met Gram. I was working Monday through Wednesday in this little bar in the Georgetown area."
"A couple of the Burrito Brothers - Rick Roberts and Kenny Wertz - called by with a friend of mine who suggested that I get back on stage and sing. I wasn't that keen - you've got to imagine doing three sets a night for maybe about five people who couldn't care less. I wasn't too enthusiastic but I did get up and we did "It Wasn't God Who Made Honky Tonk Angels" which was another of the first Country songs I had ever learnt."
Almost Joins Burritos
"Anyway Rick and Kenny liked it and, the next night, they brought Chris Hillman with them because they were looking for a girl to go on the road. So we got it together and, after my gig every night, I would go and sit in with them at their local gig. Next they asked me to join the band and I said yes, but the band disbanded a couple of days later."
"Apparently Chris had told Gram about me and he was looking for somebody to sing with. So he came down to my usual Monday gig and we did a couple of songs together before the three people in the audience - and it seemed to work out ral good."
"I drove him and his wife back to Baltimore. And we exchanged addresses and phone numbers."
"I didn't see him again for a year but he would call me up periodically and say that we would be doing the album together the following week. Of course I was getting a little sceptical at that time because this had happened on a number of occasions.
"It was a real hard year for me. I was working six nights a week and going to bed at four every morning and my baby was waking at seven, and making around eighty to a hundred dollars per week. When I finally did get that ticket to go out to Los Angeles I was pretty much surprised, but I did go out there and we did 'G.P.'."
'G.P.' Album Cut In Hollywood - Emmylou Joins Fallen Angels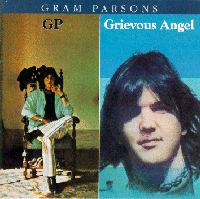 "I really liked working with Gram, it was a completely new experience for me. I was a little weary at first because of Los Angeles and Hollywood and all, and I was very much East Coast orientated. I was very much on my guard but Gram was a very real person and, whenever I went out there, I always felt that I was in some kind of protective bubble. It was never Los Angeles itself, but always working with Gram and the music, and I kept myself in a very small circle."
Upon completion of the "G.P." album, Emmylou went on the road with Gram, touring as part of his Fallen Angels band. They toured from January 1973 until Parsons' death on September 19, 1973.
"We did a lot of singing in that time - a six week tour of the entire country. We travelled in a bus, and we did so much harmonising in the back of that bus. A lot of the material for 'Grievous Angel' was gotten together and perfected in motel rooms, in the back of that bus, and on the stages of places like the Smiling Dog Saloon, Cleveland, Ohio."
Meets Eagle Bernie Leadon
It was through Gram that Emmylou got to know Bernie Leadon because Gram and Leadon had both been in the Flying Burrito Brothers. By the time that Emmylou met him he was in the Eagles."
"Gram was a big influence on my life. As a person you just loved him because he just brought it out of you."
"He was a very wonderful person. He had an incredible musical vision. I think it was unparalleled. There are a lot of people who are really good primitive artists, people who have an inborn feel for music and maybe they don't understand what they're doing. But they do it and it's great.
Parsons Big Influence
"Gram not only had that thing but he had understanding of what he was doing and I think he had a clear direction of what he wanted to do musically. I don't think there've been too many people who had all that together."
"I think I have a feeling for music - I think I've always had it - and it was Gram who brought it out in me. I don't think I have the vision that Gram had, I think quite a lot of my music was learned from him, a combination of an instinct that he brought out in me. I've always thought that I'm more of a plodder, just chiselling out what I'm trying to do because of the basic knowledge or the basic feeling that I have. But I'm very slow at it."
"Like, as far as our musical relationship goes ... I was the energy source. I was always saying, '*Okay let's do it'. And he was always the visionary and the real leader. So we really complemented each other because he needed my energy and I needed his direction. I really enjoyed it, I was really very, very happy working with him."
'Grievous Angel'
Harris/Parsons Collaborations
The Emmylou Harris-Gram Parsons collaboration came to full fruit ion on the "Grievous Angel" album. Accompanied by Bernie Leadon and master guitarist James Burton, Gram Parsons' and Emmylou's voices achieved an ununsually moving harmony. Emmylou herself co-wrote one of the songs on the album.
Virtually Live Album
"Gram was in really good shape for that album, and we were really tight from working on the road together. The band knew what they were doing and we had the charts together by the time we got into the studio. We went in and, man, it was really fast - we did the tracks in five days and then a second five days for the vocals which were nearly all first or second takes. For all extent and purposes ist should be regarded as a 'live' album."
"We didn't really write songs together. He always carried those songs around in his head. He just needed a little prodding to get them out. That's all I did. I helped him with a line here and there. I'd suggest something but those were his songs. I didn't dispute the credit on 'In My Hour Of Darkness', which he gave to me. I think that was probably because at the same time there was this big thing about that stupid album cover."
Wife Nixed Album Pix
"Gram picked out a picture of he and I to be on the back of the cover. I got really upset when those people went in and got it taken off because I just didn't want anyone messing with his album. I mean I didn't care if my damn picture was on the back, but it just really pissed me off that anybody would... I dodn't feel that anybody had the right to go in there and change one single thing cause the album was totally finished when he died. There was no reason for anybody to change anything."
The person responsible for the removal of Emmylou's picture from the sleeve of the "Grievous Angel" album was Gretchen Parsons, Gram Parsons' wife. According to Phil Kaufman, Parsons' road manager and confidant, "Gram selected a photo for his album. He told Emmylou, 'Here's what I promised you, your picture on the album'. But Gretchen hates Emmylou; when Gretchen found out about the picture she hit Gram with a coathanger and chipped his ear. He was partially deaf when he died."
Gram Parsons' death - official verdict, 'over stimulation of the heart' - hit Emmylou hard.
"It was the first time to have ever lost a close friend. I'm sure that all people have lost someone who is very dear to them, but Gram was young and so full of life. There are people who say 'well, it was bound to happen'... but not to me because Gram was the most alive person I ever knew and breathed a whole lot into me and into my life. So he still remains very much alive in my heart."
"Eventually Gram will find his place in history. He had a real creative vision of his own as a writer. Perhaps there is a shadow of that inspiration on my records but it's not the gut level thing."
"Gram was Gram, a real original. There will never be another like him."
Parsons Tragic Death Interrupts Emmylou's Career.
"A person can be many things to many people - I just have too many good memories of Gram to dwell on his death - to dwell upon whatever han-ups he might have had, whatever incidents followed his death. It's just not worth it because I have too many good memories about our relationship and all that he gave me.
Gets Herself Together
"I felt like I couldn't go on and I felt like I couldn't give it up. What I did was just to plunge myself into work on a real anonymous level. I was in Washington. Nobody cared. It wasn't like I was in LA or something. I just got a band together and started doing all the songs we'd done on stage. And I did it. It wasn't a very inspired thing. It was like therapy. It was like, 'Okay, get up on the bars and walk, five feet every day and maybe at the end of the year you're gonna be able to succeed to walk by yourself'."
Starts Own Angel Band
Emmylou returned to Washington and went into seclusion. After a while she came out and began to play again, forming her own band, the Angel Band, and getting back into the country scene.
One of her close friends at the time was Linda Ronstadt, still one of her best friends.
Emmylou played a weekly gig at The Red Fox, a redneck, bluegrass, beer joint. In the audience was Brian Ahern, the man who was to produce her first Reprise album, "Pieces of the Sky".
"It was our bread and butter gig. Brian came down with a tape recorder, shakes my hand and says hello, sits down, turns the tape recorder on and sits through four sets. Didn't say a word. Afterwards he asked why I thought I needed a producer. And I replied 'BECAUSE I DON'T HAVE ANY IDEA WHAT I'M DOING"'."
Through her friendship with Gram she naturally knew his manager and now, in July, she signed a contract with him. In October she entered the studio to record "Pieces of the Sky".
Warner Brothers Release 'Pieces Of The Sky' to critical acclaim!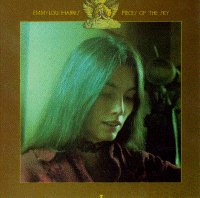 It was very much a country album with such songs as 'The Bottle Let Me Down'. 'If I Could Win Your Love' and Dolly Parton's 'Coat Of Many Colours'.
On the album she used such top line musicians as Glen D. Hardin on piano, James Burton on guitar and Bernie Leadon on banjo, bass, dobro, etc. But when it came to putting a band together to go on the road to promote the album this caused her a terrible problem.
"The album was accepted so instantaneously that it amazed a whole lot of people, mainly myself, and all of a sudden I really needed to reproduce the record. Whats more I had the musicians who wanted to go on the road with me and a record company willing to subsidise it. But it left me a terrible oproblem because, at that time, I had Angel Band together who, besides being talented musicians, they were real good friends of mine. It was a hard decision, but I fired them. In the long run, though, I think it was the right decision because I've got an incredible band together now."
Thus, when Emmylou first visited Britain, included The Hot Band were James Burton and Glen D. Hardin.
"I couldn't believe how fast things happened after the album came out. Although I thought it was a nice album, I thought there were alot of nice songs on it but I figured it would jsut be ignored 'cause it wasn't a commercial pop record and it wasn't a basic country album. And it definitely wasn't a rock 'n' roll album."
One of the most powerful songs on "Pieces Of The Sky" was Emmylou's own composition "Boulder To Birmingham".
Canyon Fire Inspires Song
" 'Boulder To Birmingham' was written on my own except for the melody to the verses, which I couldn't get anything. I took it to Bill Danoff, sang the chorus, showed him the rest of the lyrics, and he just took it from there. I was out in Los Angeles during the Topanga Canyon fire. It was right after Gram's death and I was really undergoing some strange things. It was really kinda awful being out there. I felt really kind of lost."
"It's real funny, sometimes people respond to a loss or a sadness by crying a lotk but what happens to me is that I dry up inside and it becomes very painful. That's what it was hat I was going through and that fire didn't help. I felt like I was being burnt alive."
"The song was mostly about Gram. It's not like I set out to write a song about Gram. It's just that most of the lyrics came from that period of time. I hesitate to say that song is about Gram, but it's a song that's inspired by some of the feelings I had after his death."
Elite Hotel Sleeve Shot In Mojave, California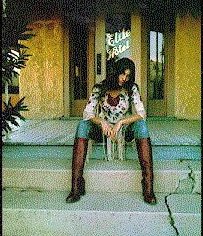 "Pieces Of The Sky" was followed fairly quickly by "Elite Hotel".
"There's no story behind the album´. We had all these songs and had no idea how to put them together. I tried different combinations, like you put a puzzle together. I just wanted it to flow somehow but not in terms of a concept - just musically. It took me a while to get used to the sequencing because of all the combinations we tried."
On "Elite Hotel" Emmylou still features James Burton on guitar and Glen D. Hardin on keyboards. Plua a group of musicians from Washington DC known as The Seldom Scene.
Seldom Scene Seen
"They're the top band in Washington and I knew them from playing in the clubs. They play only for their own ejoyment. They are some of the finest musicians I've ever worked with. John and Fayssoux Starling really taught me a lot of music."
The album contains a number of memorable tracks beginning with the opening cut "Amarillo", written by Emmylou and with music by Rodney Crowell.
"It's a story, but I don't know where it came from. it took five minutes to write and Rodney made it workable."
There is also an exciting rendition of "Las Vegas".
"I'd never really thought of recording 'Las Vegas' but the live track had such a good feel. 'Las Vegas' still blows me away. I can't believe the power on it. It had to be live. It had the energy."
Too Much Of A Good Thing
Despite the album's success - it made Number 33 in the US charts and Number 10 in the country charts - it was criticised by a number of people who thought that her producer had opted for an easy formula of country songs and one Beatles number per album. The fact was that "Here There and Everywhere" (along with "Till I Gain Control Again") were left over from the previous album. All the same the comments made Emmylou respond.
Emmylou Dont Care
"At first I paid attention to those types of comments about 'Elite Hotel' but I thought it was a progression. You have to do what's honest for you. If nothing else 'Elite Hotel' was a totally honest album and completely indicative of what I'd been doing on the road for the past year with the band. It was what my life had been."
Emmylou featured in duets on Bob Dylan Album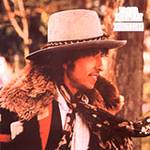 Most people hadn't heard of Emmylou Harris until she showed up, virtually dueting, with Bob Dylan on his "Desire" album.
"I was a little nervous about meeting Dylan. I think it would have been completely different if we'd have met before in a scial situation. As it was I just walked into the sessions and shook hands with him and started working."
"The only thing that was difficult is that I'm rather a slow person. I prefer to come in and hear a song and get some ideas about it before I do a take."
"His phrasing changes a lot - but Gram did that a lot too. Gram and I had the same feel for phrasing, but I STILL WATCHED HIM ALL THE TIME SO I did just the same thing with Dylan. I just watched his mouth and watched what he was saying. That's where all that humming comes from. You can hear me humming on some of those tracks. I didn't know they wre going to use that:"
"Obviously as a background singer I feel my parts are off pitch but it has a feel and when it comes to the album I think it's incredible."
Emmylou did five days of sessions with Dylan at the CBS studios in New York but had serous doubts whether he would use any of her work on the album. He took her off "Hurricane" and substituted Ronnee Blakely instead so she had had chalked it up to experience when she turned on the car radio on new year's eve 75-76...
"I was sittin' in the car and John drove up behind me. And I suddenly ran out of the car beating on the windows saying 'I'm on the radio, I'M ON THE RADIO WITH BOB DYLAN!' I ran back to the car and there it was on AM radio, I couldn't believe it."
The song on the radio was "Romance in Durango".
"I liked 'Romance In Durango' but my god there I was singing with Bob Dylan and the song was in Spanish! I was always bad in languages at school and the first song he gives me is in Spanish."
"I kept saying 'sing that line again' and felt stupid. I didn't even take Spanish in school. Took French and flunked it."
No Overdubs With Dylan
"I sing with a certain style and I just didn't know if Dylan would like me. It's not like I'm one of the Jordanaires. It does take me awhile to work out harmony parts and Dylan works very fast. I'm more of a perfectionist. I would have liked more time. There were times when I didn't even know I was supposed to come in and had to jump in fast."
"But I later realised that you just don't overdub on a Dylan album. He's not that kind of artist. I asked to come fix my parts and he said sure but I didn't have the time. And, I really didn't think he'd use any of it."
Over the next three days, the first three days of the new year, more and more of the tracks from "Desire" were played on the radio and Emmylou was amazed to find herself on virtually every track, sometimes mixed up even louder than Dylan.
"Sometimes I cringed when there were a few notes that I thought I could have hit a little better. But that's just me being miscroscopic. Believe me, it was all live. No overdubs, first takes. The very first time I'd sung 'One More Cup Of Coffee' it was recorded."
"Lyrically it's my favourite Dylan album. He has scored once again. His creativity will never end. There was a period when I didn't get off on things like 'Self Protrait' but he still remained a strong force. We all went through periods where Dylan was a real strong force in our lives. 'Blood On The Tracks' was really good. But 'Desire', 'Desire' is so musical!"
"To me singing with somebody is a very personal thing so I just tried to zero in on what he was doing and watch him very closely. I was having to sing harmony with him, watching his phrasing."
"Dylan's a very emotional singer in a different way to someone like Gram butr there's such a real intensity in his music that it's so easy to get into lyrically and musically."
Parton, Harris, Ronstadt
Country Trio Cut Single
Before "Desire" was released Emmylou and her friend Linda Ronstadt had gone to Lake Tahoe in Nevada to see Dolly Parton perform there. The three women friends had recorded a Christmas single, "Light Of The Stable" before the tahoe visit.
In many ways Dolly's show couldn't be farther from Emmylou's, being very slick and commercial.
Ooh, Las Vegas
"It was a real Las Vegas presentation but the music was so tasty, so exquisite. Every other note Dolly hit, Linda and I just looked at each other and sighed. Dolly is an incredibly daring singer who hits incredible licks. I've always sung triplets which is my style but after listening to her, Dolly licks are creeping into my style."
Take Two, Marries Producer
Emmylou began 1977 by getting married. On January 9 she married her producer Brian Ahern at his home in Halifax, Nova Scotia.
Shortly after that she had a puzzling time when Dylan released his single "Rita May". It is obviously an out-take from the "Desire" sessions but she really can't remember whether or not it is her singing on it.
"I feel very silly but I have no idea whether it's me on that song. There were a few out takes, but the whole thing was done so fast... It sounds like me".'
Releases Third Album
She also released a third album on Reprise: "Luxury Liner" which immediately entered both the US and UK album charts.
'Luxury Liner' Sails Up U.S. Charts

"We didn't approach that album any differently from the other ones, but an album can't help but take a direction, even if it's not a thing you're conscious of at the time."
" 'Luxury Liner' has a continuity. It's a more serious album than 'Elite Hotel', which was very much a road album, you know, songs about drinkin in bars and stuff."
She recorded twenty tracks for the album, only two of which she wasn't satisfied with, thus giving Reprise a spare album in the can ready for release.
Parsons' beautiful "She" is included on 'Luxury Liner' as well as another of his compositions, but "Luxury Liner" as an album shows a move away into a new independence from her original mentor into a unique and free area of her own.
This was shown by her next album, "Quarter Moon In A Ten Cent Town" which had no Gram Parsons compositions on it at all. Instead there were a couple of Jesse Winchester nunbers and material by Delbert McClinton, Dolly Parton and other country composers. The Hot Band for the album consisted of Glen D. Hardin, piano; Emory Gordy, bass; Albert Lee, electric guitar; John Ware, drums; Hank DeVito, pedal steel and Rodney Crowell on acoustic.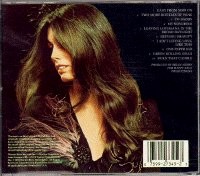 Copyright 1978 by Wise Publications